Everest Luxury Helicopter Tour

Nepal is a mountainous country, and most of the places are unreachable because of the unavailability of road access. Trekkers walk approximately 12 – 14 days to reach the base camp of popular mountains in Nepal. A helicopter tour in Nepal is the fastest way to explore Himalayan ranges. Nepal Houses eight out of the top ten mountains above 8000 meters and numerous peaks below 8000 meters. If you want to see the beauty of Everest, you can join the Everest Luxury Helicopter Tour.
The Everest region helicopter tour, The Everest Base Camp Helicopter tour, and the Annapurna Base Camp Helicopter tour are the most popular helicopter tours in Nepal.
The helicopter tour offers a spectacular aerial view of natural beauty. If you can explore the Everest region in a few hours by Helicopter tour, then why not?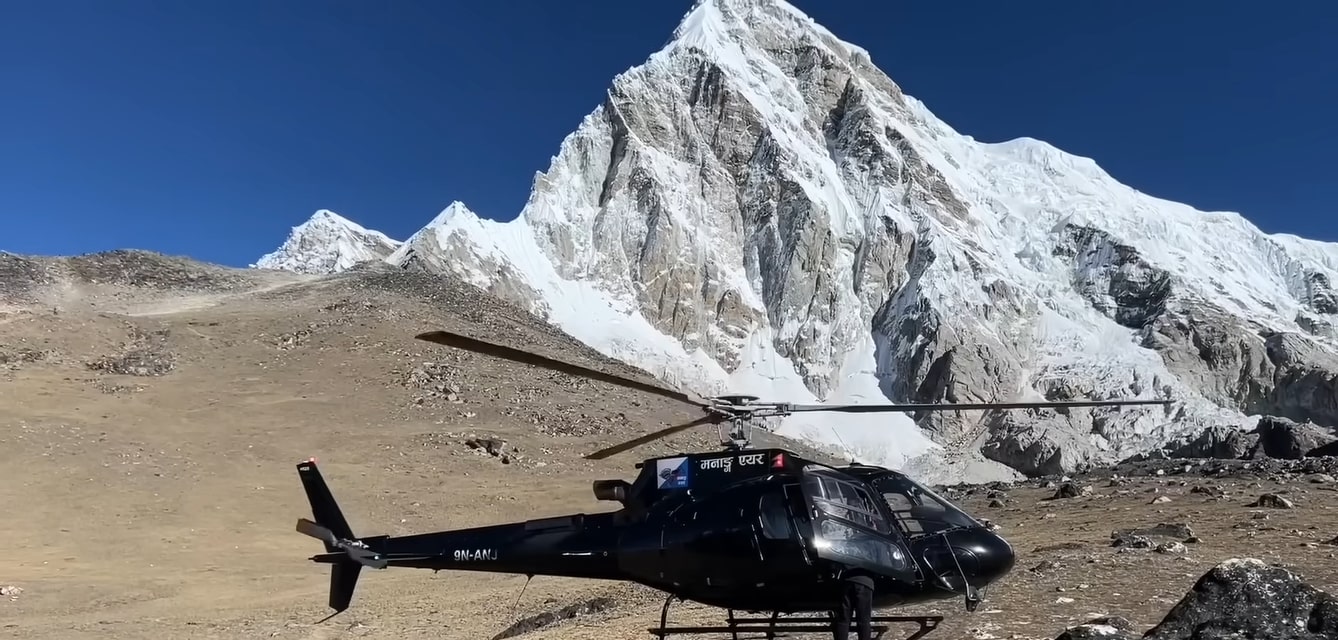 The Everest Heli Tour is especially for those who are short of time but want to be at the top of the world. Mount Everest is 8,848 meters elevation from sea level, which is the best attraction in the Everest region. Everest falls within the Mahalangur Himalayan range in northeast Nepal.
Mount Everest which is known as "Sagarmatha" in Nepali, means head of the sky. Jaw-dropping views of Mount Everest, Lhotse, Nuptse, Ama Dablam, Cho Oyu, and many more snowy peaks will be the reward of this package.
During your trip to the Everest region, you can also witness the Langtang, Gaurishankar Himalayan range, Ganesh Himal, and many more. The total duration of the tour will be approximately four hours with four landing at major attractions of the Everest region.
Kala-Patthar (5,644 meters)
Kala-Patthar is a Nepali term for black-colored rock. Without snow Himalayas of the Mahalangur range look black. Kala-Patthar is located above Gorakshep and the Everest base camp.
The elevation of Kalapatthar is 5,644 meters (18,517 feet), whereas the elevation of the Everest base camp is 5,364 meters (17,598 feet). Kala-Patthar is a place surrounded by the Himalayas and offers a 360 view of snowy peaks. Sunrise from the Kala-Patthar used to be magnificent.
The Everest base camp (5,364 meters)
Everest base camp is a very popular spot in the entire world. Other than Sagarmatha (Mount Everest) you can see a close-up of Mount Nuptse, Lhotse, Pumori, and many others. Khumbu Glacier and Khumbu Icefall are also points of attraction for the Everest base camp.
Khumbu Glacier is extended from the Khumbu icefall and is the highest glacier in the world. Everest base camp can look crowded during the expedition season. The expedition to Mount Everest peak starts from the Everest base camp.
The Everest View Hotel (3,962 meters)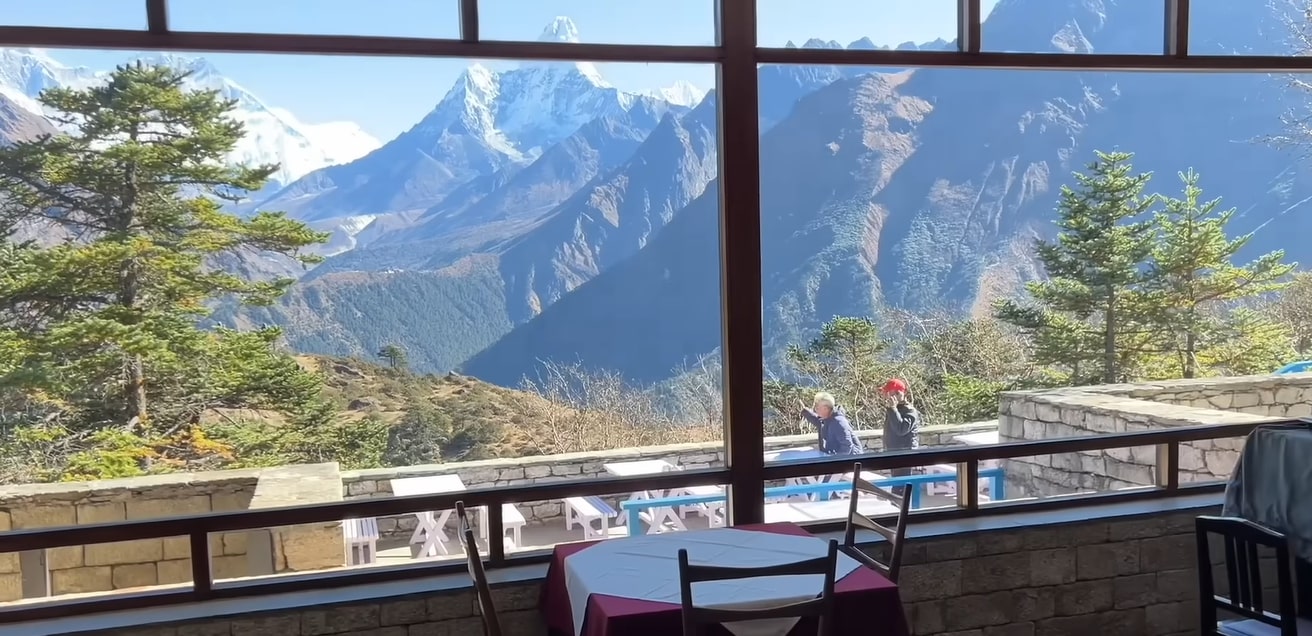 Hotel Everest View was established in 1971AD. It has been listed in the Guinness Book of the World record as a five-star category hotel of the highest altitude at 13000 feet (3,962 meters). Your helicopter will land near the hotel where you can order breakfast and enjoy the incredible view of the mountains.
Tenzing-Hillary Airport (2,860 meters)
The Tenzing-Hillary airport is also known as Lukla Airport and is considered the most dangerous airport in the world because of its short runway and geography. The airport is located at an altitude of 2,860 meters (9,383 feet). Lukla is a gateway to the Everest.
Name of the airport is named after the first successful climber of Everest Tenzing Norgay Sherpa and Sir Edmund Hillary.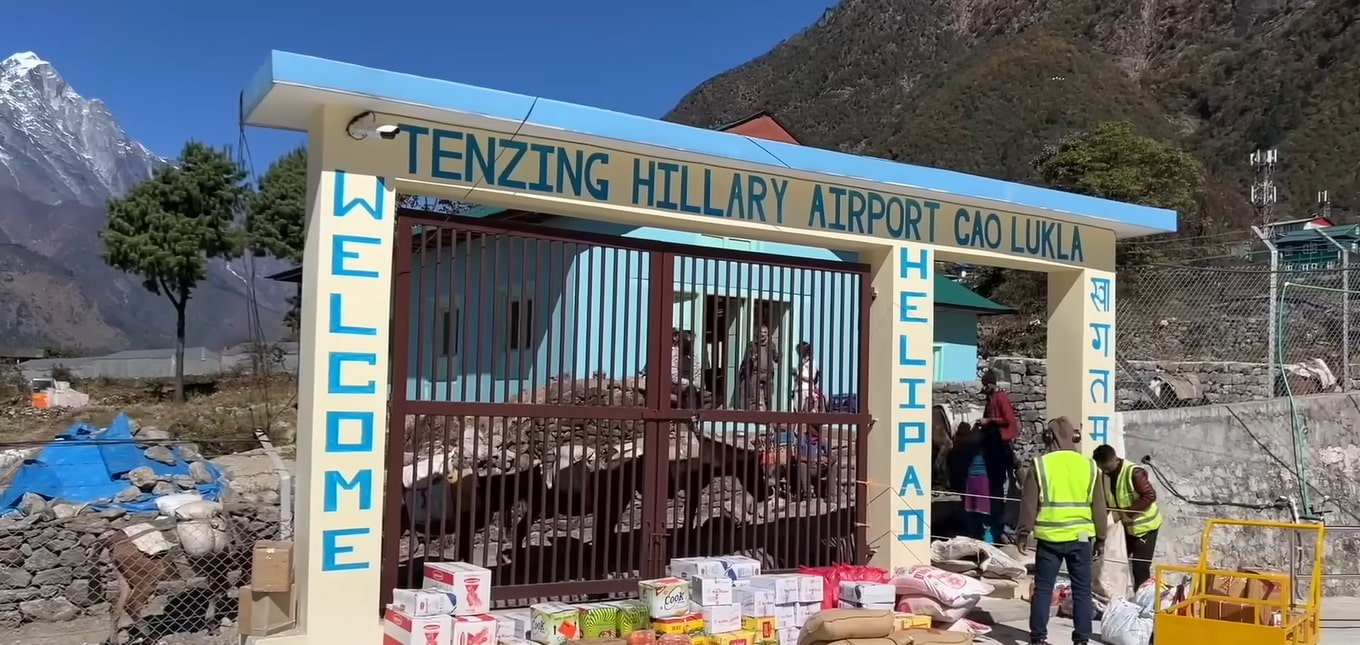 Highlights of the Everest Luxury Helicopter Tour
Scenic and adventurous helicopter flight to and from Lukla airport
Refreshing view of green-carpeted hills and snow-capped mountains
Landing at the elevation of 5,644 meters at Kala Patthar and 5364 meters at The Everest Base Camp
360-degree view of the Himalayan range from Kala Patthar and the Everest view hotel
Delicious breakfast at the Everest view hotel, Syanboche with a mountain view
Magnificent view of Dudh Koshi River flowing through the Khumbu Region
Close-up view of Mount Everest, Lhotse, Nuptse, Ama Dablam, Cho Oyu, and many more
Incredible view of Tengboche Monastery, Khumbu Glacier and Chortens
Best season for the Everest Luxury Helicopter Tour
The best seasons for helicopter tours are spring and autumn season. Both of these seasons are popular among tourists because of sunny days, stable weather, clear sky, and stunning mountain views. Visibility of mountain ranges used to be crystal clear during the spring and autumn season.
However, the high-altitude weather of the Himalayan range is very unpredictable and may change anytime. You can book after double checking with weather conditions.
In the morning time weather used to be relatively stable and this is the time, most of the flights make trips to the Everest Region.
In Nepal, the Rainy season coincides with the summer season, during those days sky used to be cloudy, and mountains are barely visible. During the rainy season, flights are prone to cancellation or delays because of unstable weather.
High-altitude weather used to be cold all year round, and winter months are very colder. Visiting colder regions during winter could be very challenging.
During winter it used to snowfall in high-altitude regions. If you got a chance to be in the Himalayas, during winter snow-covered mountains look elegant on a sunny day.
What to Pack in Your Bag for Everest Luxury Helicopter Tour?
There is weight limitation for the Helicopter tour so pack only essential items for the trip. Yes! Expect to be asked about your weight by the pilot. You are traveling to the top of the world, right? Plan a super light packing.
For 4-5 hours of the trip, you will not need many items but you will be traveling to the cold high altitude area, so here are a few things you must have on your body or bag:
Down Jacket for freezing temperature
Warm socks and gloves
Comfortable and warm trek boots
Warm Trousers or pants
Woolen cap or scarf
Sunglass and Sunblock
Refillable water bottle
Your essentials
Documents required for Everest Luxury Helicopter Tour
Your flight will directly take you to the Sagarmatha National Park, as Mount Everest falls within the perimeter of the National park. You need to have a Sagarmatha National Park permit to enter the national park area. If you are planning your tour through a travel agency, they will prepare your permit for you.
If you are planning your trip independently you can take the permit from the Nepal Tourism Board office in Kathmandu or at Syangboche upon your landing there.
The Nepal Tourism Board Kathmandu office is only thirty minutes' walking distance away. A national park permit costs NRS 3000.
Make sure to carry your personal identification document such as your Passport with you.
Everest Luxury Helicopter Tour Quick Itinerary
Kathmandu (1350m) to Lukla (2860m)
Lukla (2,860m) to Kala Patthar (5,644m)
Kala Patthar to the Everest Base Camp (5,364m)
The base camp to Everest View Hotel (3,880m)
Syanboche (3,880m) to Lukla
Lukla to Kathmandu
Everest Luxury Helicopter Tour Detail Itinerary
You will fly from the Tribhuvan International Airport, domestic terminal. Your booked airlines will call early at 6 AM for the timely take off to the destination. Around 7 AM your tour will start and will last for 4-5 hours.
1. Pick up from your hotel and drop it at the Airport
We will pick you up from your hotel and drop you at the domestic terminal of Tribhuvan International Airport. We will drop you off one hour before your flight time.
2. Airport check-in and preparation for the flight
You will be introduced to the pilot and other members of the team. You will be carrying a copy of the Sagarmatha National Park permit and Tickets with you. After a short briefing from the Pilot, you will be ready to take a seat on the Plane
3. Kathmandu (1,350 meters) to Lukla (2,860 meters) and first Landing for refueling
If the weather is suitable and other things are ready it's time to take off to the Lukla. You can see many things on the way to Lukla.
Ganesh Himal range is the first Himalayan range you will be seeing after takeoff, followed by the Langtang range. From this flight, you will truly believe that Nepal is a Himalayan country.
You will see beautiful villages and agricultural fields over the green hills while the helicopter moves toward the eastern part of Nepal
The helicopter will Land at the Lukla Airport for quick refueling. You can capture quick pictures as a memory of being at the Lukla Airport.
4. Lukla to KalaPatthar (5,644 meters)
From Lukla helicopter continues to ascend toward the Sagarmatha base camp. And further towards Kalapatthar and land there at Kalapatthar. You can see the DudhKoshi River, green forest, the popular town Namche Bazar, and other Sherpa villages en route to the Kalapatthar via the base camp.
In case of a weight limitation of 4-5 people in the flight, the pilot will land at Pheriche or Dingboche for splitting your group into two.
After passing over from the tiny Sherpa village of the region; Gorakshep, Khumbu Glacier, and the Everest Base camp you will reach Kalapatthar.
Lightweight (approximately 220 kilograms) is possible to ascend in the elevation of Kalapatthar, your pilot may ask you about your weight before leaving from Kathmandu.
You will get approximately 5-10 minutes to look around. As Kalapatthar is at an altitude of 5,644 meters (18,373 feet) from sea level, this altitude is risky for altitude sickness so you shouldn't spend much time there.
Kalapatthar offers 360-degree views of mountains including Mount Everest, Nuptse, Lhotse, Pumori, Ama Dablam, Khumbutse, etc.
5. Fly to the Everest Base Camp (5,364 meters)
After a quick flight and descent, you will land at the Everest Base camp. Cherish the moment now, you are at the base camp of the World's highest peak. You can see widespread Khumbu glaciers, Khumbu icefall, and tented camps of various expedition teams during the season. The base camp feels like a cocoon of Himalayas.
You will have approximately 10-15 minutes to click your pictures and make a memory.
6. Fly to The Everest View Hotel (3,880 meters)
Without any further delay at the Everest Base Camp, your flight will lead towards Syangboche where the Everest view hotel is located. The Hotel Everest view is 5 minute's walk away from the helipad. Upon your landing, you will be rewarded with the best panoramic view of the Himalayas.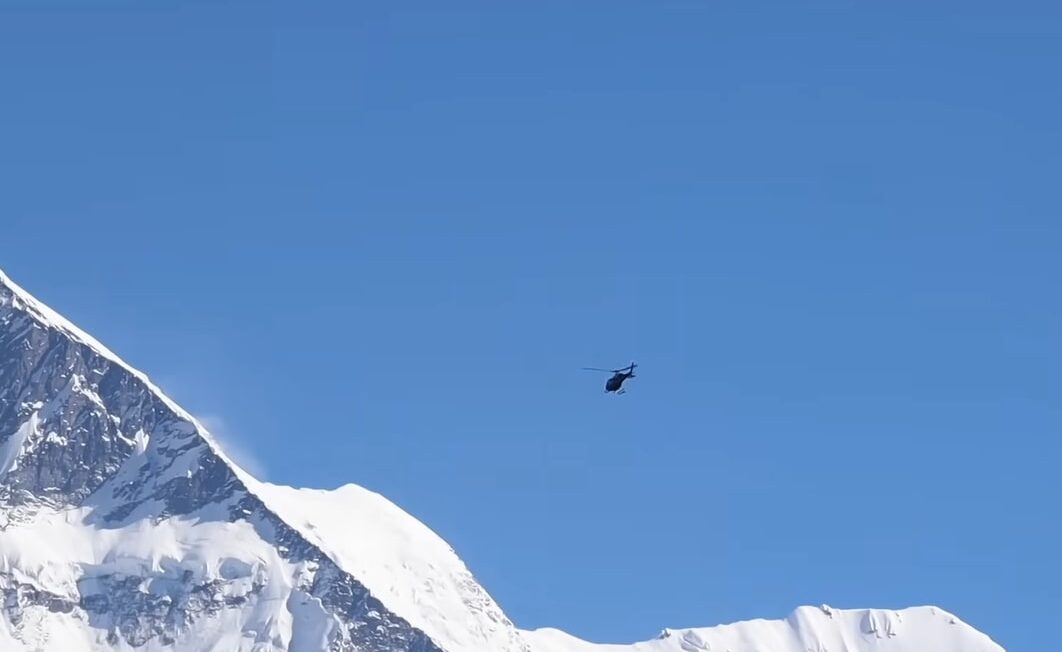 You can enjoy the breakfast of your choice at the hotel with a spectacular mountain view. Having Breakfast at the Five-star hotel located at the highest altitude is a lifetime experience for everyone. You will have approximately 30 minutes at the Everest View Hotel.
7. Fly to Lukla (2,860 meters) for refueling and return to Kathmandu (1,350 meters)
From the Everest view hotel, the helicopter will descend towards Lukla airport for refueling purposes. After refueling at Lukla, the helicopter will fly towards Kathmandu Airport. You can return to witnessing incredible scenery way back to Kathmandu.
8. Kathmandu Airport to your hotel
A member from our agency will be waiting for you at the airport. Upon your arrival at the airport, our member will receive you and drop you at your hotel in Kathmandu.
Everest Luxury Helicopter Tour Cost Details
There are different costs for private and group charters, you can understand the cost rate of the airlines through your chosen travel agency. You can customize your tour plan as per your budget and wish list.
A private charter from Kathmandu can cost around USD 4,500 whereas a group charter costs anywhere between USD 1,000 to USD 1,500.
Some prefer to take a helicopter tour from Lukla to Everest Base Camp. In that case, private helicopter fare could be approximately USD 1500 and group cost approximately USD 500 per person.
Alternate Luxury Helicopter Tour options of the Everest Region
There are numerous alternate helicopter tour options are available for the Everest Region. The standard way to get to the Everest region is Kathmandu to Lukla to Kathmandu flight. Flight from Kathmandu to Lukla, then trekking to the Everest Base camp and Kalapatthar, then trek back to Lukla and finally returning Kathmandu via flight.
The cost of the different options depends upon the group size and option chosen.
1. Kathmandu to Everest Base Camp to Kathmandu
In this option, you will fly from Kathmandu airport directly to the Everest Base camp, quick exploration in the Base Camp, and return via helicopter to Kathmandu. In this option, you will not land at the Everest View Hotel for breakfast. The helicopter may land at Lukla Airport for fueling.
2. Lukla to Everest Base Camp to Lukla or Kathmandu
You can charter a helicopter from Lukla to the Base Camp and return to Lukla via Helicopter or direct return to Kathmandu. You reach Lukla by plane from Kathmandu and return from Lukla to Kathmandu via plane. This option will be a little cheaper for you than a chartered helicopter directly from Kathmandu.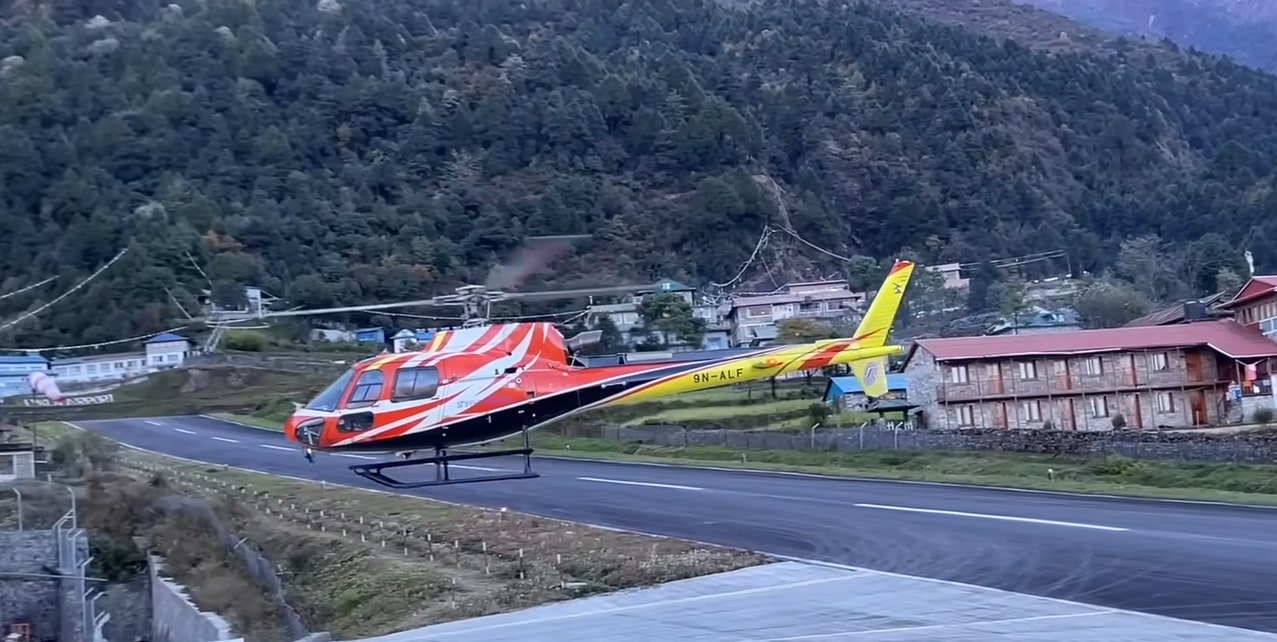 3. Everest Base camp to Lukla or Kathmandu
You can trek to the Everest Base Camp from Lukla but choose to charter a helicopter to Lukla or Kathmandu. Trekking to the base camp and returning via helicopter to Lukla is a very popular option among trekkers.
You trek to the base camp while cherishing the beauty of the trekking trail. Trekking to the base camp allows you to understand the Everest or Khumbu region and Sherpa Lifestyle in detail. The trekking trail to the Base camp from Lukla is the same way up and down.
Rather than have the same views up and down the base camp. Trekkers choose to charter a helicopter and return to Lukla to witness a bird's eye view of the Himalayan path traveled.
Things to remember for Everest Luxury Helicopter Tour
There are a few things to consider before planning Everest Luxury Tour. Visiting the altitude always comes with the risk of altitude sickness. Here you will be directly flying to an altitude of 5,000 plus meters from sea level you need to consider some safety issues:
Altitude sickness prevention
Take medical clearance for Helicopter tours from your doctor. Doctor's review will be needed if you are under any medications for any chronic or acute disease condition
Make sure to have travel insurance with altitude coverage
Make sure to carry emergency medications suggested by your doctor for your health condition
spending longer time in the mountains could be risky
be quick in your exploration and photo-shoot
stay well hydrated from the day before your tour
talk with your pilot if you got any difficulties during the trip
Other need-to-know points
Book in advance you may not get a seat at the last hour, during the season there could be a huge traffic
The weather in the mountains is very unpredictable despite of best travel season. Helicopter flights can be delayed or postponed from either side.
Most of the flights are scheduled in the first morning hours but time could be a little up and down than scheduled
Wear proper warm and comfortable clothing
Make your backpack super light because of the weight limitation
Carefully listen to the pilot's briefing and ask if there are any queries on your mind
Wait for the pilot's signal to enter and exit the helicopter at every stop
Smoking is strictly prohibited inside and a minimum of 50 meters around the helicopter
Take care of your belonging as rotor blades can blow them off
Conclusion
The Everest Luxury helicopter tour is the fastest, safest, and a comfortable option for exploring the Everest Region. The Everest Luxury Helicopter tour of the region with landing is the best choice for you.
Everest is the tallest standing mountain in the world, at an elevation of 8,848 meters from sea level. Visit to the Everest base camp used to be a point on most travelers' bucket lists. The total hours of the Helicopter tour will approximately be of four hours.
You will land and cherish the beauty of Lukla, Kalapatthar, Base camp, and hotel Everest view. Everest view hotel is a five-star category hotel located at the highest altitude of 3,962 meters (13,000 feet). You will do your today's breakfast at the Everest view hotel with the Himalayas in front of you.
Bird-eye views of enchantingly stood snowy peaks, unique landscapes of the Everest (Khumbu) region, and glaciers are special highlights of the tour.
We have tried to include as much information as possible in this blog to help you plan your Nepal trip.
Stay connected with Body, Mind, and Soul.
Connect With BMS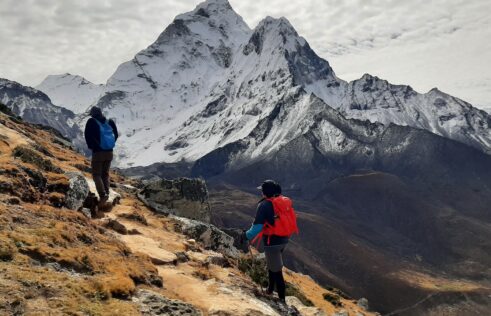 Vasudhaiva Kutumbakam
- The World is a Global Home