Top 10 Yoga Retreats in Nepal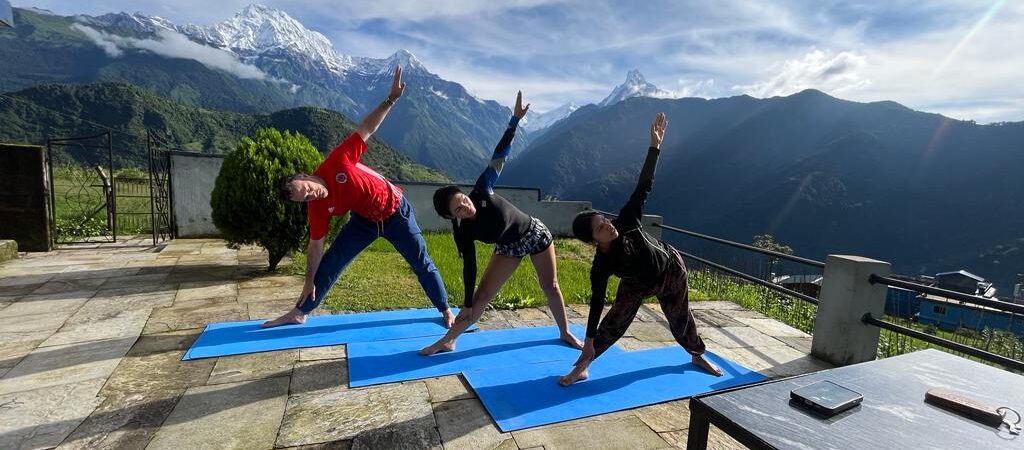 Nepal is a country located in South Asia, bordered by China to the north and India to the east, west, and south. As a Himalayan country, Nepal spans across the upper Himalayan belt and is home to the world's highest mountain, Mount Everest. A Yoga Retreat in Nepal is an ideal way to reconnect with yourself in the serene surroundings of the Himalayas.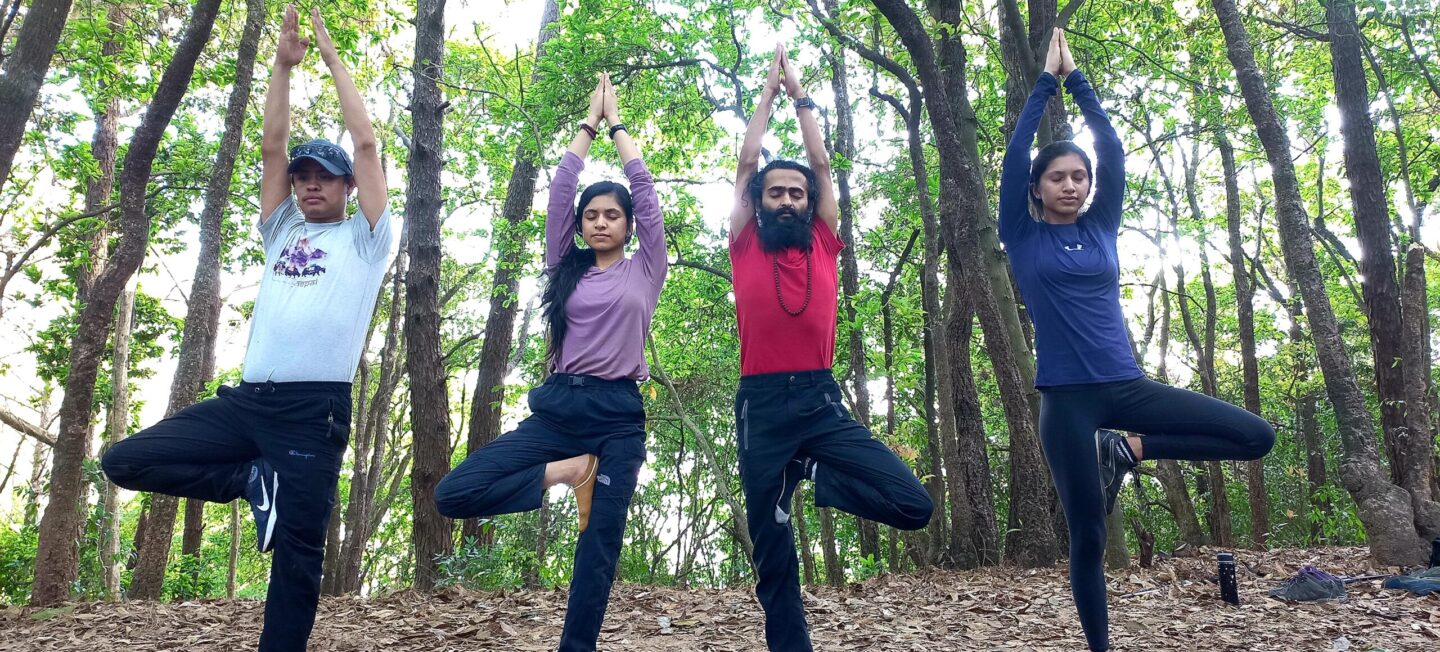 Immerse yourself in daily yoga and meditation classes, indulge in healthy organic meals, and take part in cultural excursions to local temples and villages. Whether you are a beginner or an experienced practitioner, a Yoga Retreat in Nepal is a rejuvenating experience for the mind, body, and soul.
Nepal boasts the greatest altitude variation in the world, with the lowest land in Jhapa at 60 meters and the highest point at Mount Everest at 8,848 meters. Eight of the top ten mountains above 8000 meters are located in Nepal, and the country is home to many other peaks below 8000 meters.
Kathmandu, the capital of Nepal, is also known as the City of Temples. Other popular tourist destinations include Pokhara, Lumbini, and Chitwan. Nepal has three types of land; the upper mountain region, middle hilly region, and lower plain region. This variation in terrain creates differences in weather, culture, and lifestyle.
What is so special about Nepal?
Nepal is a multilingual country with Nepali being the official language. More than 80% of people in Nepal are Hindu, and there are other religious communities such as Buddhists, Muslims, Kirat, and others. Nepal is also home to over 900 species of birds, and endangered animals such as the one-horned rhino, Bengal tiger, Asian elephant, and Gharial.
Chitwan National Park is a dream destination for animal lovers as it is home to endangered birds, tigers, and rhinos. Whether you're a nature lover, cultural enthusiast, explorer, mountain climber, yoga practitioner, devotee, seeker, or simply seeking peace, Nepal is the perfect destination for you.
According to scriptures, Lord Shiva practiced yoga in the Himalayas, and many other saints and sages have spent their lives in this region for spiritual fulfillment. The Himalayan region is highly fertile for spiritual growth, making Nepal an excellent destination for yoga retreats.
Are you excited to visit historically, culturally, and naturally alluring places while practicing yoga? Here are the top ten yoga retreats in Nepal for you to consider.
Top 10 Yoga Retreats in Nepal
You can choose according to your time and interest. Here we have the top 10 yoga retreats in Nepal for you.
Nepal Yoga Retreat Kathmandu Valley
Kathmandu District is the capital of Nepal, in addition, the other two cities Bhaktapur, and Lalitpur form a valley called Kathmandu Valley. Moreover, this valley is bordered by mountains which makes it look like a bowl shape. Additionally, the inhabitation of this valley is dated back to as early as 300 BCE. Furthermore, Newar is the indigenous inhabitants of Kathmandu Valley and they speak Nepal Bhasa.
During the period of the Malla dynasty (12th to 18th century), many temples were built in the valley. Those temples are still well kept and daily offerings are made. Every five to ten minutes of the walking distance across the valley you will spot some temple or statue of gods or goddesses.
Seven UNESCO world heritage sites are within Kathmandu Valley.
Kathmandu Durbar Square
Bhaktapur Durbar square
Patan Durbar Square
Pashupatinath Temple
Swayambhunath Temple
Boudhanath Stupa
Changunarayan Temple
Yoga retreat in Kathmandu Valley is a special package for you to explore the spiritual, religious, and historical aspects of the valley along with the practice of Yoga. Each day in the morning and evening you will have a Hatha yoga class and meditation practice. During day time you will have sightseeing at different UNESCO world heritage sites. Yoga classes can be conducted outdoors at the site of sightseeing if the weather favors.
The best part of the Kathmandu Valley yoga retreat is that you will get to visit UNESCO world heritage sites within a 45-minute to one-hour drive.
Duration: 2-Nights and 3-Days
Activity: Two yoga classes per day and sightseeing
Nepal Yoga Retreat Pokhara
Pokhara is the second most populous city in Nepal which is 200 kilometers west of the capital of Nepal. When we talk about Pokhara you may visualize Phewa Lake and Lakeside.
Pokhara City is the most visited and beautiful city which is why it's also called the tourism capital of Nepal. The name Pokhara is from the Nepali name of the pond 'Pokhari'. Pokhara resides within the Kaski district which houses innumerable lakes.
Gracefully stood mountains of the Annapurna range are a special attraction. In addition, three out of the Top ten highest peaks in the world are in the Annapurna range which are Annapurna I, Manaslu, and Dhaulagiri.
The mountains of the Annapurna range are only 45 to 75 kilometers away from the City. Furthermore, from every corner of the city, you can spot one or two mountains. Additionally, the city's weather used to be optimal for living here all year round.
This city is the home of many Gorkha soldiers that the Nepal army, British army, and Indian army recruit.
Pokhara City sounds like a piece of heaven on earth. The yoga retreat in Pokhara is the most common choice among visitors. You will have yoga classes during the morning and evening. During the day you will explore Pokhara City with stunning views.
Duration: 3 -Nights and 4-Days
Activity:- Two yoga and meditation practices per day
Day 01: Drive to Pokhara and visit Phewa Lake
Day 02: Visit Peace Pagoda, Pumdikot, and Davis Falls
Day 03: Visit Sarangkot, Gupteshwor Cave, and Bat Cave
Day 04: Drive back to Kathmandu after morning yoga class
Balthali Yoga Retreat
Balthali is a two hours drive from the heart of Kathmandu; is a village located in Panauti, Kavre district. Very close to the capital of Nepal; Balthali is a quiet and peaceful escape into nature. Your stay during the retreat will be in a resort with incredible mountain views. As Balthali is a village you can see agricultural fields, farmers, and nature in its natural state.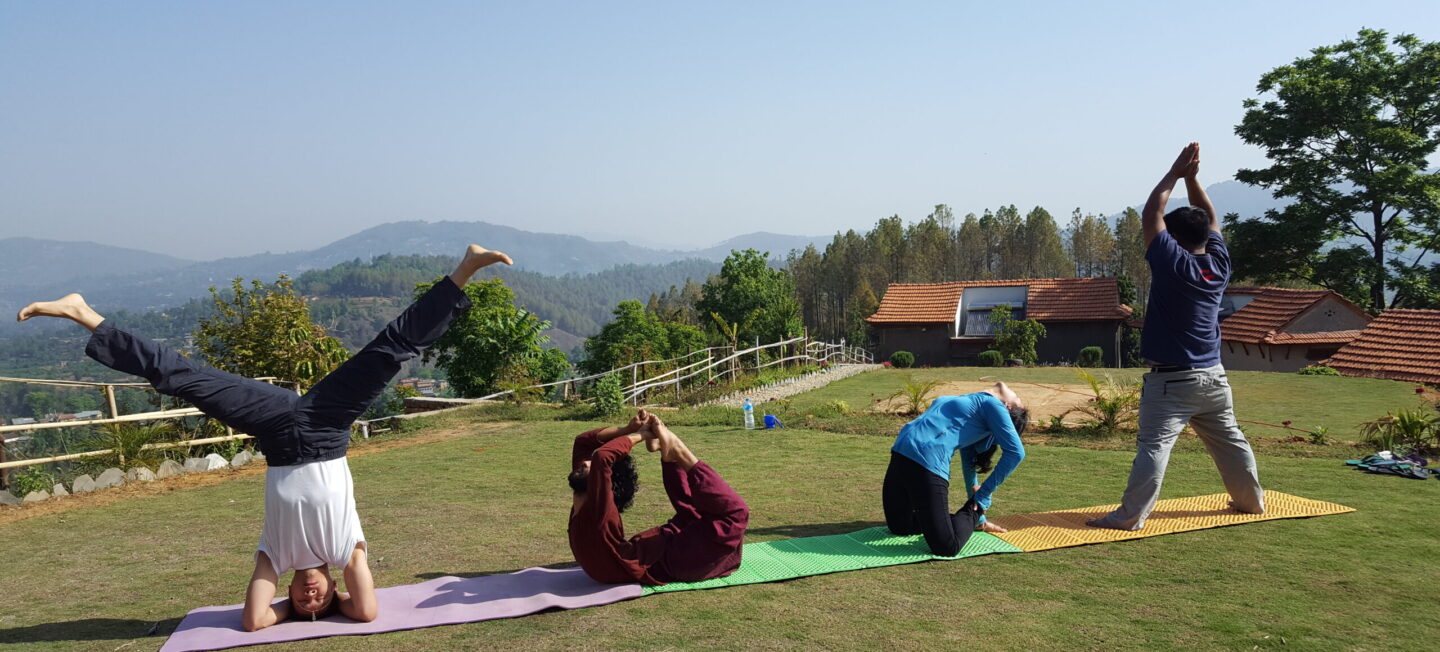 A natural environment with the sounds of birds as background music is best for yoga practice. Yoga classes include asana, pranayama, chants, and meditation practice.
Duration: 2-Nights and 3- Days
Activity:-
Morning and Evening yoga classes by an experienced yoga teacher
Yogic questions/answers with yoga teacher
Village tour
Sunrise and sunset views
Interaction with locals
Yoga and sound healing retreat in Nepal
Yoga is about the union of the individual self to the universal self thus creating harmony and balance within the human system. Such harmony results in a peaceful mind, a joyful state, and a healthy body.
Yoga in its entirety is healing which, added with sound healing, is more powerful. Sound healing uses special kinds of instruments which produce vibrations, music, and tones. Sounds created by such instruments produce therapeutic space to promote deep relaxation, reduce stress and ease chronic anxiety.
As per the yogic text: Hatha yoga Pradipika mentions Nada Anusandhana. Nada Anusandhana aims at the conscious application of sound vibrations, and music to heal different physiological and psychological ailments. Sound healing also works for the mind, body, and soul in the same principle as Nada (sound) Yoga.
To begin with, Our experienced yoga teacher will conduct yoga classes and sound healing sessions. Additionally, the most commonly used instrument for sound healing is the singing bowl. Furthermore, yoga practice will be in the morning, while singing bowl healing will be in the evening.
Moreover, Nepal is a perfect hub of yoga and sound healing. Furthermore, many yoga centers in Nepal offer sound healing therapy. In particular, Himalayan Yoga Academy is one of the prominent names offering singing bowl training. Finally, it offers sound healing training in Nepal, which makes you a professional sound healer.
Duration: 2-Nights and 3-Days
Location: Kathmandu
Activity:- Morning Yoga practice and evening sound healing
Day 01: Visit Pashupatinath temple, Boudhanath
Day 02: Visit Swoyambhunath, Kathmandu durbar square.
Day 03: Visit Patan Durbar Square
Yoga Retreat Bhaktapur
Bhaktapur is the smallest district of Nepal and is one of three historical cities of Kathmandu Valley. Also known as the oldest city; Bhaktapur is popular for its years-old architectural, historical, and sophisticated cultural heritage. Omitting the preservation of the ancient essence, the core of Bhaktapur looks like an open museum.
Bhaktapur is famous for historical temples such as Nyatapola, Changu Narayan, Bhairavnath Temple, Taleju Bhawani Temple, Dattatreya Temple, and many more. Nyatapola temple's establishment is dated back to the 18th century and is known as the tallest temple in the country. Nyatapola is five storied traditional pagoda-style temple and is dedicated to the goddess Siddhi Lakshmi who is also called Tantric Lakshmi.
To start with, Dattatreya Temple is enchantingly stood with very intricate architectural carvings, and its establishment dates back to the 15th century. Furthermore, Bhaktapur holds a very rich cultural heritage which can't be included in this short overview of Bhaktapur city.
Additionally, Pottery Square, 55 window palace within Bhaktapur Durbar Square, Taumadhi Square, and Pujari Math are the other most visited places of Bhaktapur. Notably, Biska Jatra or Bisket Jatra is the largest celebrated Jatra in Bhaktapur, which is celebrated on the New Year's Day of the Bikram Sambat calendar. It's worth mentioning that Nepal is the only country to use the Bikram Sambat calendar, which is referred to as BS.
Finally, with many opportunities to explore the cultural aspects of Bhaktapur city, this yoga retreat in Bhaktapur city looks like a Cultural Yoga retreat.
Duration: 2 Nights and 3-Days
Activity: Two yoga classes per day including yoga asana, pranayama, meditation, and chanting
Daily Sightseeing:
Day 01: Bhaktapur Durbar Square and Siddha Pokhari visit
Day 02: Taumadhi Square visit
Day 03: Pottery Square visit Meal breakfast, lunch, and dinner with Bhaktapur special JuJu Dhau (Yoghurt)
Annapurna Foothill Yoga Trek
Annapurna foothill trek is the best choice among mountain lovers with the equal feel of mountains at relatively lower altitudes. If you are looking for a package in which you will be exploring the Annapurna foothill region while practicing yoga daily during the trip. You will be exploring three beautiful villages of the Annapurna region, Dhampus, Ghandruk, and Landruk.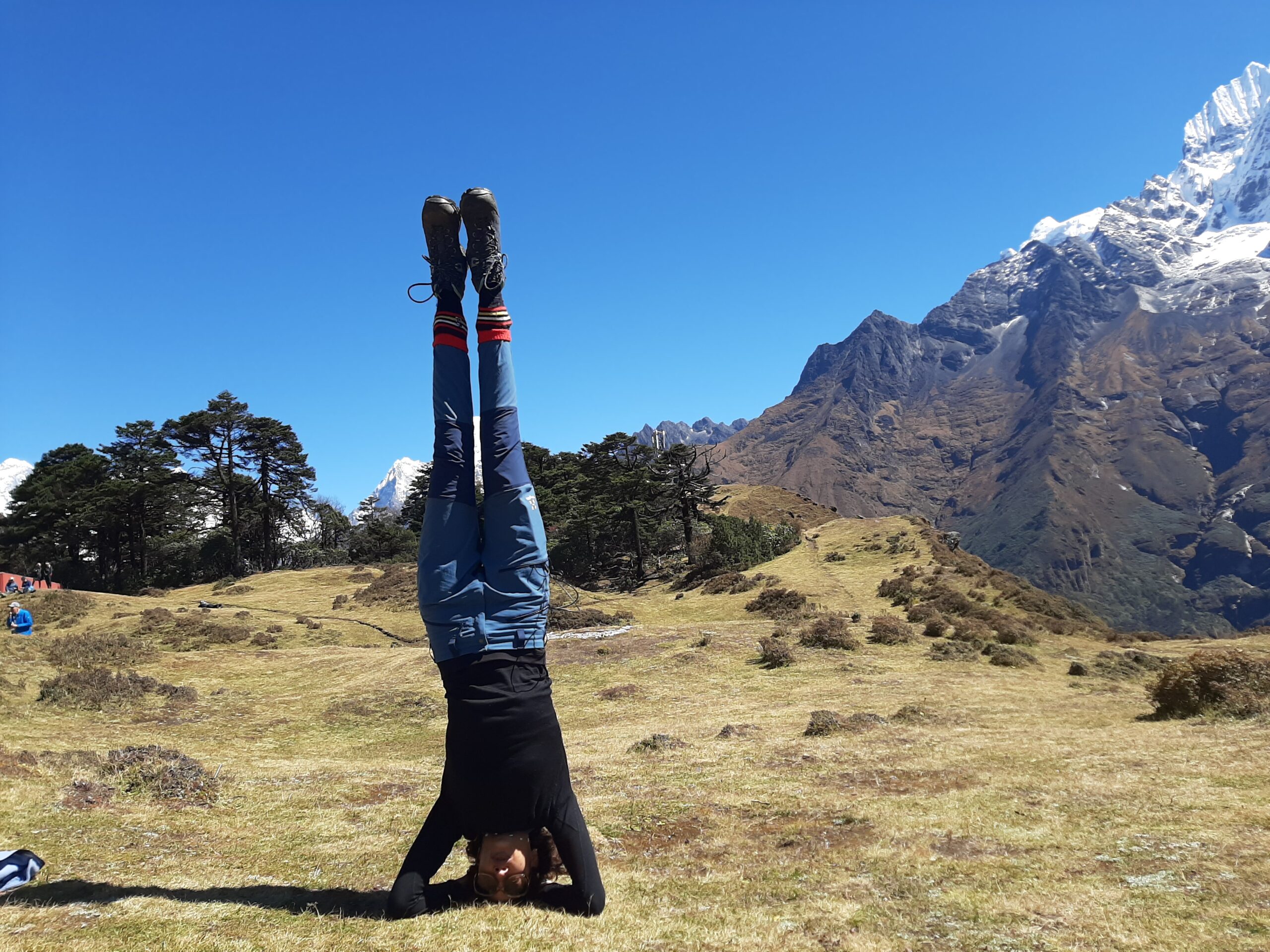 Annapurna foothills villages offer you spectacular views of Annapurna south, Himchuli, and Machhapuchhre.
Practicing yoga and meditation practice in the cool mountain breeze, warm morning sun, and pure air to breathe could be a life-changing experience for anyone looking for an escape from the city hustle. BMS Adventure's experienced yoga teacher will guide you in yoga practice during your trip.
Duration: 07-Days
Activity: morning yoga classes and evening meditation or mindfulness
Day 01: Arrival in Kathmandu, the Capital city of Nepal.
Day 02: Drive to Pokhara by Tourist Bus. 6-7 Hours drive.
Day 03: Drive to Phedi and easy hike up to Dhampus.
Day 04: Trek to Landruk
Day 05: Trek to Ghandruk
Day 06: Trek down to Nayapul and drive back to Pokhara.
Day 07: Drive back to Kathmandu
Everest View yoga trek
Going to see the top of the world carrying a yoga mat is a dream for most yoga practitioners. The Himalayas is considered a home of Yoga; Lord Shiva who is known as Adiyoga or the first yogi spent thousands of years practicing yoga/meditation in the upper parts of the Himalayas. In Nepal, our grandmother always referred to the mountains as a playground and source of knowledge of saints and sages.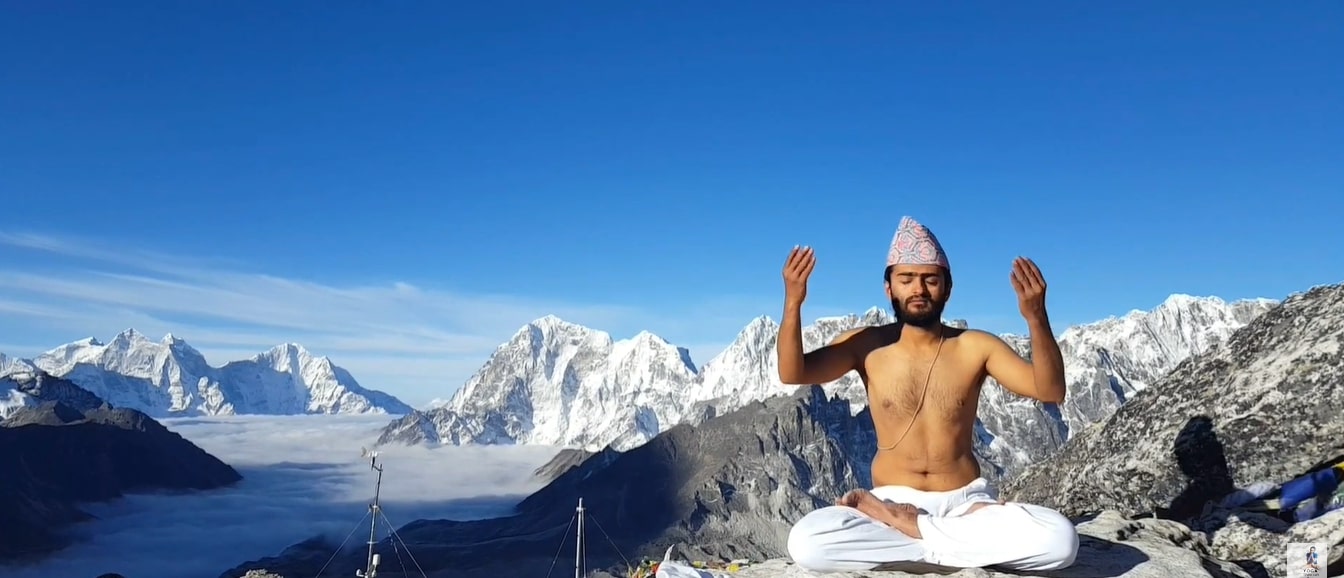 As per our itinerary, we will have a seven-day long trek every day in which we will have yoga and a meditation class. Yoga practice in the mountains rejuvenates the entire system with bursting energy. Snowy peaks and widespread mountain ranges become a perfect backdrop for your yoga retreat.
Our trek will begin once we reach Lukla, Lukla is a gateway to the Everest region via a sky route.
Duration: 7 Days
Activity: two yoga classes per day in the morning and evening
Day 01: Fly to Lukla (2840m.)Then trek to Phakding (2610m.)
Day 02: Phakding- Namche Bazar (3440m.)5-6 hours walking
Day 03: Acclimatization Day (Hike to Everest View Hotel for the panoramic view then return back to hotel) 4-5 hours walk.
Day 04: Namche–Tengboche (3860m.) 4-5 hours walk.
Day 05: Tengboche to Manjo (2835m.) 5-6 hours walk.
Day 06: Manjo to Lukla(2840m.) 4-5 hours walk.
Day 07: Fly back to Kathmandu (1350m.)
Monastery Yoga Retreat
A monastery is a religious institutional building in which monastic, monks; nuns stay for religious practice. But Monastery is open for all to stay and participate in rituals. You can actually stay in the Monastery's guest house run by Monastery.
To start with, staying in a Monastery offers you an opportunity to experience monastery life. Furthermore, the money paid by you for your stay directly goes to the maintenance of the monastery.
In addition, we will choose Namobuddha Monastery for our yoga retreat as it is close by to Kathmandu Valley. Notably, Namobuddha monastery offers incredible mountainous views and a peaceful ambiance for practice and meditation.
Moreover, a yoga retreat in the monastery is an incredible experience with positive vibes around the monastery that recharge one's body, mind, and soul. Also, you will have yoga classes two times a day customized with the ritual schedule of the Monastery.
Additionally, you will get a chance to eat food prepared for monks, eat, chant, and meditate with monks. Lastly, this will be an exciting and peaceful experience if you are planning to choose a Monastery Yoga retreat.
Duration: 3 Days, and 2 Nights
Activity:-
Yoga classes in the morning and evening
Chants and meditation with monks,
strolling around the monastery
Jamacho Yoga Hike
If you are looking for one day of rejuvenating escape to nature, a one-day Jamacho yoga hike will be the best choice. Specifically, if you have one day free between your Nepal visit routine, you can join us for this amazing exploration of body, mind, and soul.
Furthermore, this one-day yoga retreat option is best for you if you have one day spare from your schedule. Moreover, yoga on the lap of mountains and within the lush forest is an incredible experience.
Jamacho Gumba is a religious shrine, especially for the Buddhist community. It is located within the perimeter of Nagarjun National Park on Nagarjuna Hills; also known as Vindya Mountain. The Gumba is located at 2100 meters altitude from sea level. Gumba sits exactly on top of Nagarjun Hills and it is north of Kathmandu city.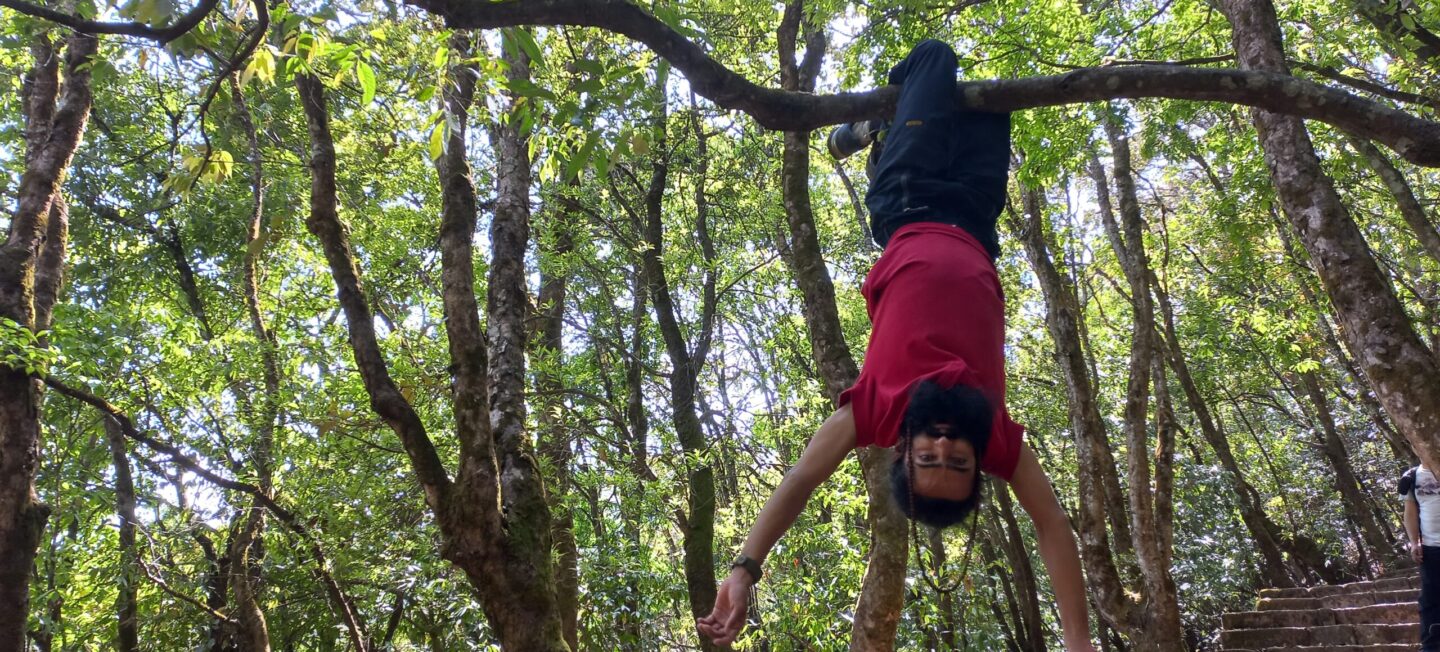 We will drive from our residence to Phulbari Gate which is near Balaju Bypass. The area is protected by the Nepalese military based at Phulbari Gate, they will provide us with a permit to visit the Gumba. Phulbari Gate is the starting point of our hike. If you are unable to hike, you can take a ride to the top as well.
approximately, It will take 2-3 hours of walking to reach the top but it all depends on your pace too. Descent from the top will be easier and shorter than ascending. The distance of one way hiking trail is approximately 5 KM and the up and down will be 10 km.
It's easy to moderate hike option only 4 KM away from the tourist Hub; Thamel. Including yoga practice at the top, the total duration of this hike will be approximately 7-8 hours.
Duration: One day
Activity: A yoga class includes Yoga poses, breathing practice, meditation
Meals: Packed lunch included
Two weeks special yoga retreat in Nepal
Are you the one who wants to explore Nepal fullest and keep yoga practice on during travel: this two-week special yoga retreat is especially for you. This package offers you a travel plan extending from the capital of Nepal; Kathmandu to Nagarkot, Gorkha, Bandipur, Pokhara, Lumbini, Chitwan, and back to Kathmandu.
Hanuman Dhoka Durbar Square, Bhaktapur Durbar Square, Patan Durbar Square, Pashupatinath Temple, Swayambhunath Temple, Boudhanath, Gorkha Durbar, Bandipur, Phewa Lake, the birthplace of Lord Gautam Buddha; Lumbini and Chitwan National Park are special attractions of this yoga tour retreat. Therefore, from day one of your trip, you will get a chance to know the local cultural practices of Nepali people.
In fact, this package is a mother package of all other yoga retreat Nepal packages mentioned here. Specifically, visiting historically significant places of Nepal, the panoramic snowy mountain ranges, fresh natural air to breathe, and enjoying the beauty of green carpeted hills and UNESCO world heritage sites visit is the goal of anyone visiting Nepal.
In addition, stapling the entire travel plan with Yoga makes your trip a luxury yoga retreat in Nepal. Moreover, yoga while doing a Nepal tour is a good idea. As a result, morning yoga class prepares your body for the day, and evening meditation relaxes your tired body for a good night's sleep.
Duration: Two weeks
Activity: One yoga class and evening mindfulness and meditation practice by our experienced yoga teacher
Day 01: Kathmandu.
Day 02: Kathmandu Heritage Sites Tour and drive to Nagarkot.
Day 03: Nagarkot-Bhaktapur Sightseeing and Drive to Namobuddha.
Day 04: Namobuddha-Kathmandu via Patan Durbar Square.
Day 05: Drive to Bandipur via Gorkha Durbar Square.
Day 06: Early Morning visit Authentic and exotic Newari Bandipur village and drive to Pokhara
Day 07: Pokhara Sightseeing
Day 09: Drive to Lumbini and Sightseeing.
Day 10: Drive to Chitwan
Day 11: Chitwan sightseeing
Day 12: Drive back to Kathmandu
Day 13: Shopping and Relaxation Day in Kathmandu.
Day 14: Departure
Nepal being a Himalayan country offers you the sacred knowledge of yoga in its purest form so let us serve you in your journey of Nepal exploration with the light of yoga. The BMS Adventures team is grateful to be your guide during your Nepal stay.
Other than the Yoga retreat mentioned above we conduct daily yoga classes at Himalayan Yoga Academy. American Yoga Alliance recognized 200 hours; 300 hours, and 500 hours of yoga teacher training courses, and all-level professional singing bowl courses are also being offered at Himalayan yoga academy.
Connect With BMS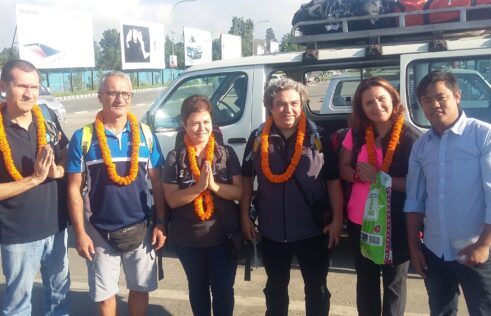 Atithi Devo Bhava
- Guest is God