Everest Base Camp Yoga Trek for a Solo Traveler

Everest Base Camp Yoga retreats
Everest Base Camp Yoga Solo Trek: When we talk about the highest point on the planet, Mount Everest comes to mind. This mountain is also known as Sagarmatha, which means "Goddess of Sky" or "Head of the Sky."
It is part of the Mahalangur Himalaya range in the Himalayas and stands at an elevation of 8,848 meters, making it the tallest peak in the world. Furthermore, the base camp, located at an altitude of 5,363 meters above sea level, is within the boundaries of Sagarmatha National Park in the Solukhumbu district. Therefore, to trek to Everest base camp, a permit from the national park is required. Additionally, it's worth noting that the Solukhumbu district is located 139 kilometers by air from the capital city of Nepal, Kathmandu.
The trek to Everest base camp offers a unique opportunity to explore the majestic mountain ranges and discover inner peace, love, and gratitude. The grandeur of Mount Everest is enhanced by the presence of other striking peaks such as Lhotse, Nuptse, Ama Dablam, Cho Oyu, Kongde, Thamserku, and many more.
The trek begins at Tenzing Hillary Airport in Lukla at an altitude of 2860 meters, and the highest point of the trek is Kala Patthar, which stands at 5,643 meters. Due to the high altitude and the risk of altitude sickness, this trek is a moderately difficult yoga trek.
Overview
Undoubtedly, the Everest base camp trek is a world-renowned destination for trekkers, thanks to its stunningly vibrant scenery that makes the Everest region seem like a heavenly place.
Notably, the best place to enjoy panoramic views of the picturesque white and green mountains is from Kala Patthar. Additionally, the lower panel of the Everest base camp offers an opportunity to observe the beauty of the Khumbu Glacier and Alpine Valley.
Moreover, trekking to the top of the world while carrying your yoga mat for practice can be a truly transformative experience. Yoga and meditation amidst the mountains can change your life in a profound way. These are some of the highlights of the Everest Base Camp Yoga Trek.
attaining the highest point on the planet.
A memorable trip to Lukla, the world's highest airport
Discover the ancient Khumbu Valley and the highest-altitude hotel.
Magnanimous Picturesque of Mt. Everest, Mt. Lhotse, Mt. Nuptse, Mt. Ama Dablam, Mt. Cho Oyu, and many more.
Trek to Kala Patthar (5,545m)
Visit to religiously significant Tengboche Monastery
Explore Sagarmatha National Park's natural splendor on foot.
Get to know about the Sherpa culture
Practicing yoga and meditation on the lap of the Himalayas
Mesmerizing night light sky
Planning your solo yoga trek to Everest Base Camp
Planning is very crucial and should be done much before heading out for the trek. Plan well to enjoy the trek and at the same time stay safe and return safely from the mountain. Mountains are prone to weather fluctuation, snow storms, and landslides.
Always plan your trip while considering the dangers of the place you are visiting. The Everest region of Nepal is a cold, dry, wind-prone, and altitude sickness-prone area.
You will enter the Everest region via the sky route via Lukla. Flights to Lukla can get canceled or postponed at any time because of the weather conditions. Remember to have extra budgets to manage your extra days.
Plan short treks in Nepal or in your country to check your stamina for the trek. Having short trekking builds muscle memory to make your body used to the activity and stay fit.
If your body is used to activity it will adapt well during the trek. Practicing any kind of sports or walking two to three months before the Everest base camp trek will help prevent you from easy exertion. 
Solo trekking in Nepal
Nepal is a Himalayan country that houses eight out of the top 10 tallest mountains in the world. Similarly, Nepal's unique ancient cultural heritage, diverse geographical integrity, and rich Hindu/Buddhist pilgrimage sites cause Nepal to be a perfect travel destination for people all over the world.
Moreover, Nepal is absolutely safe for solo traveling. Himal (hilly region), Pahad (mountainous region), and Terai (plain region) all regions are safe and peaceful for all people.
Solo Everest Base Camp Yoga Trek
Himalaya is the home of Lord Shiva. He is known as AdiYogi (the first Yogi) and Adiguru (the first Guru). The Himalayan region is mentioned as a dwelling place for not just Lord Shiva but many other gods and goddesses. Yoga and Meditation in the Himalayas used to be a dream of every yoga practitioner or spiritual seeker.
The Himalayas are known as naturally energetic places. Mountains have been bystanders of humanity for many millennia. Himalayas are in isolated geography and far away from crowds so were chosen by saints and sages for yogic practices for ages.
The atmosphere of mountains is charged by the energy of the divine beings, saints, and sages who lived and spent their lives here.
Solo EBC trek gives the opportunity to delve deep into your practice in a naturally recharged place and enhance your daily yoga practice. Mountains make us realize how small we are in existence and that is the first step to deepen our spiritual journey. Beyond mat Yoga is a Spiritual journey.
Is Everest Base Camp Safe for Solo Trek?
Nepal is completely a safe nation for solo travelers. Everest Base Camp Trek is absolutely safe for trekkers. There is a standard Everest base camp trek route so there is less chance of missing the track.
Similarly, well-kept trekking trails, trekker information kept on the route, and access to local community services are strong points of Everest Base Camp Trek.
Additionally, most of the local service providers of tea houses and checkpoints speak and understand the English language making solo travel easier.
However, traveling at high altitudes comes with the risk of altitude sickness and the Everest region is one of them. Firstly, read and understand altitude sickness symptoms, take enough time to acclimatize, and know the emergency rescue system of the Everest region. Finally, keep all the necessary trekking gear for you including a first aid kit.
Solo Everest Base Camp Yoga Trek Itinerary
Here is the general itinerary of the Everest Base Camp yoga trek including the standard route to the base camp. You can customize the itinerary as per your comfort but make sure to have proper acclimatization. Every morning and evening you should be practicing Yoga and meditation.
Day 01: Arrival in Kathmandu (1350m)
Day 02: Fly to Lukla (2840m) and Trek to Phakding(2610m) Duration: 3-4 hrs walk
Day 03: Phakding to Namche Bazar (3440m) Duration: 5-6 hrs walk
Day 04: Acclimatization Day & hike to the viewpoint and return Namche Duration: 4-5 hrs walk
Day 5: Tengboche (3860m) to Namche Time: 4-5 hours
Day 06: 4410 m from Tengboche to Dingboche Time: 5 to 6 hours
Day 07: Acclimatization Day & Hike to Chhukung Ri (5550m) for a panoramic view and return back to Dingboche. 7-8 hrs walk
Day 8: Lobuche to Dingboche (4920 m) Time: 5 to 6 hours
Day 09: Lobuche to Gorak Shep (5140m.)- Hike to the Everest Base Camp and return to Gorak Shep for the night (EBC 5364m.) 7-8 hours walk
Day 10: Early in the morning, go to Kalapathar (5545 meters) for views of the sunrise and the Everest Himalayan range, then descend to Pheriche (4240 meters).7 for 8-hour walks
Day 11: Pheriche to Namche (3440 m). a 6-7-hour trek
Day 12: Namche- Lukla(2840m.) 6-7 hours walk
Day 13: Fly back to Kathmandu (1350m.)
Best season for a solo Everest Base Camp Yoga Trek
In Nepal there are popular two seasons for visitors; spring from March to May and autumn from Mid-September to November.
In both seasons trekking trails and teahouses used to be crowded. The best time for a solo Everest Base Camp Yoga Trek is also spring and autumn.
Days are warmer, sunnier, and longer during the spring and autumn season, thus best for trekking. During these seasons you will have Clearer Mountain and sky view.
Travel documents for solo Yoga Trek to Everest Base Camp Trek
You will be issued a visa copy while entering Nepal. Keep your passport all the time during the trek for identification. A travel Information Management System (TIMS) card is mandatory for all other treks but not Everest Base Camp Trek.
You will be charged Nepali Rupee 2000 by the local municipality of the Everest Region. You will need to have a Sagarmatha National Park entry permit which will be issued before entering the national park.
A national park permit will cost Nepali Rupee 3000. Everest region permits can be taken from Nepal Tourism Board Kathmandu or at Manjo on the way from Lukla to Namche Bazar.
Trekking gears and equipment for Everest Base Camp Yoga Trekking
You need to care for so many things if you are traveling to the mountains. The availability of teahouses and hotels en route to the Everest Base Camp makes the trek comfortable. To be better organized you can divide your equipment into essential and most essential categories.
You can buy all the necessary gear in Thamel, Kathmandu if you haven't already prepared your gear. Remember, the Everest region is cold despite any season so gather your travel gear accordingly.
Similarly, solo traveling could be tiresome for you if your backpack is heavy. You will be carrying everything by yourself. Furthermore, keep your most essential things in the top part of the bag and bedtime or less essential at the lower part of your bag.
Moreover, it's important to organize your bag efficiently for a 13-day long trek to be quick and not lose your valuables on the route. Additionally, you can buy 30-50 liters of backpacks from a trekking gears shop in Kathmandu or from your country.
To avoid getting tired because of the backpack and enjoying the scenery, hiring a porter during your solo trek can be a good idea.
If you choose to hire a porter, your most essential things are the most needed while walking. They are water bottles, energy bars, sunblocks, sunglasses, etc.
Your most essential and valuable will go in your backpack. Essentials are the things you will need after reaching tea houses such as an extra jacket, sleeping bag, etc. Your essentials go into a duffle bag or a bigger backpack that your Porter will carry.
Here we have listed basic complete backpacking for Everest Base Camp Yoga Trek checklist for you:
Yoga-specific items:
A lightweight Yoga Mat
A lightweight Yoga Towel
Meditation music or you can use nature as a background music
For head:
to protect the face from sunburn, use a hat or P-cap.
woolen cap to keep warmth
scarf or muffler
The face mask serves as a virus-prevention measure and shields your nose from strong winds.
sunglasses to shield the eyes and improve visibility in the mountains
For feet and hands:
warm gloves
Sandals and sneakers
Thin cotton socks and thick woolen socks
Trekking special items:
Sticks (which you can hire at Thamel, Kathmandu, or Pokhara)
Torchlight or Headlamp in case of power shortage
Waterproof thin jacket
Windproof down jacket
Stretchable and warm trousers
breathable cotton t-shirts and pullovers
breathable cotton thermal wear
hiking shorts
Trekking boot
comfortable backpack and duffle bag
sleeping bag (portable and suitable for temperatures of zero or below)
Others:
tissue papers
sunscreens
shampoo and soaps (you can have sachets)
Moisturizers (have them in travel-friendly tiny bottles)
towels
inner garments (enough for your travel)
Reusable water bottle good for hot and cold water
Medications (if you use any prescription drugs or dietary supplements
first aid kit
other personal belongings
Accommodation in Everest Region
In the high-altitude region, there are only a few teahouses or guesthouses to stay. During the peak season teahouses used to be crowded by visitors. Make sure to book your accommodation early otherwise, you will end up spending your night dining.
Accommodation used to be twin-sharing or dormitory style. There is no heating system available in the room, the tiny room will be equipped with simple types of furniture including a Bed and side table only.
Food in Everest Region
You can find Western main courses/snacks and local Nepali dishes on the menu. You can get all kinds of drinks from tea, coffee, energy drinks, herbal drinks, and many more.
Nepali main course dish dal-bhat is popular among trekkers and there is a popular slogan dal-bhat power 24 hours. You can have a dish of your choice or try any local dish. Remember to have something simple, easy to digest, and water-rich meal to keep you energetic and well-hydrated during the trek.
Travel insurance for solo travelers
It's really important to have your travel insurance especially while traveling to the Himalayas. Make sure your travel insurance covers altitudes above 5000 meters. Double-check with your insurance company and let them know about your trekking itinerary.
Because of the high altitude Everest region is prone to altitude sickness. In case of altitude sickness or any medical condition emergency helicopter rescue will be needed. You can't predict anything in the mountains.
High Altitude Trekking Tips
Traveling to an unknown country is challenging work; on top of that traveling to mountains is another challenge. Here are a few tips to know about high altitude and Everest Base Camp Yoga Tek.
Always carry Nepalese currency (You can pay in USD in most of the places in the Everest Region, but it's always a good idea to carry Nepali currency too)
Complete trekking gear is very important to keep you safe from cold and wind
Drinking plenty of water to prevent dehydration
stay out of alcohol as it dehydrates your body system making you prone to altitude sickness
Carry a map, Itinerary, and trekking route with you not to get lost
Wake up early and start early as day advance you will have trouble walking because of the strong wind
Give way to animals en route to the base camp as the trekking trail is the common path for yaks, mules, and others.
Don't use the shortest route to ascend fast in the high altitude and acclimatize properly to prevent altitude sickness
Watch out for your symptoms of altitude sickness and seek help when needed.
Know whom to contact, and how to take help if caught by altitude sickness
Show respect toward the local cultural and religious aspects of the locale
Try local dishes such as Dal-Bhat which is best in both quality and quantity to keep you active and satisfied during the trek
Stay positive, enjoy the trek
Hiring a guide or porter for your solo EBC trek?
You need to consider a few things before deciding to solo trek without a guide or porter. It's better to be well experienced in the mountainous terrain of Nepal, especially in Everest Region, and have survived in cold temperatures below minus 10 degrees before deciding on a solo trek.
Solo trekking is not for first-time visitors to Nepal. Nepal's geography, language, and culture are very unique and first-timers may feel lost being here. A first-time traveler planning to go to the Altitude of Everest base camp alone can be a life-threatening decision.
There will be certain advantages and disadvantages while hiring a guide or porter. Your trek guide can understand English, guide you through unfamiliar trek routes, arrange your accommodation, and take care of you.
A guide can watch if you are developing any signs of altitude sickness. Moreover, you can learn many things about the local culture and traditions from your guide.
Porter is the one who carries your backpack so that you can walk freely and enjoy the trek. You can also find some Sherpa, who can be both your guide and porter but make sure he understands and speaks English.
Tips to Budgets Solo Traveler of the Everest Region
We are writing this for you from our experience which may be useful for you to save some bucks:
Choose shared accommodation instead of single accommodation
Carry your own snacks such as dry fruits, and nut/ fruit bars. It is to avoid buying expensive snacks. In high altitudes, there will be very few shops and tea houses. All need to be carried by a mule or man.
Carry water purification tablets or purification bottles to avoid buying bottled water
Carry a refillable water bottle
Keep your water bottle inside your sleeping bag while sleeping to prevent it from freezing. You have to pay for the boiled water in the mountains.
Plan to use WIFI only when needed
It's better to carry a power bank since some tea houses charge for phone recharging
'Dal Bhat power 24 hours' is the famous slogan among trekkers of Nepal. Rice with lentils and curry compose of Dal Bhat. This local Nepali dish munches your hunger away and can be your perfect main dish for sustained energy throughout the day. Dal-Bhat is cheaper and healthier than other Western dishes available in the teahouses.
Local Sherpa Culture and Tradition
Sherpa is an indigenous community of the Everest region. Sherpa has been there on the lap of mountains for many years. They know every inch of the Himalayas; you can feel the mountain in them. Sherpas are happy, patient, kind, and helpful people you will meet during the trek.
Similarly, most of the teahouses are Sherpa and they are popular worldwide as they have a long history of helping mountain climbers and trekkers. They have their own way of living and celebrating festivals.
Pros and cons of Solo Everest Base Camp Trek
Pros:
You are the boss of your time and route as well as the risks associated with travel
As you will be trekking alone without any trekking agency, guide, or porter it's a cheaper option for you
You can stay at your own choice of hotel or teahouse
Traveling alone is about more research about the route, and local culture, which lets you know the place.
Cons
You will be doing everything yourself so it will be tedious for you.
During peak season it's very difficult to get accommodation. In high altitudes, there are very few teahouses. So it's better to book early for accommodation.
If you suffer from altitude sickness or any other emergency, there will be nobody to look after you.
In case you need a porter in high altitude, it will be hard to find one and be expensive.
Conclusion
In conclusion, the Everest region offers the tallest mountains in the world, a rich Sherpa culture, and a challenging trekking trail that will satisfy your thirst for adventure and exploration. Similarly, yoga and meditation in the Himalayan region are a unique opportunity to deepen your spiritual practice journey.
Being at historic Namche Bazar, Hotel Everest View, Everest Base Camp, and Kala Patthar are the important highlights of your trek. Finally, after completing a solo Everest Base Camp Yoga Trek you will not be the same person again.
It's absolutely a life-changing experience. Enjoy the trip, Namaste!!!.
Connect With BMS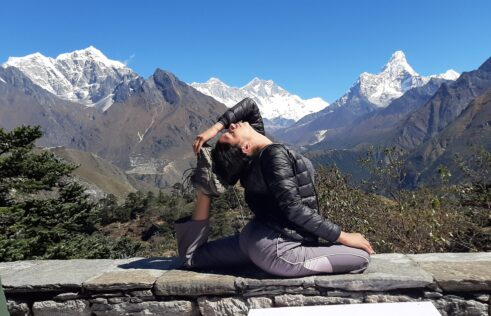 Stay Connected with Body, Mind and Soul !