A Complete Guide for Gokyo Lake Trek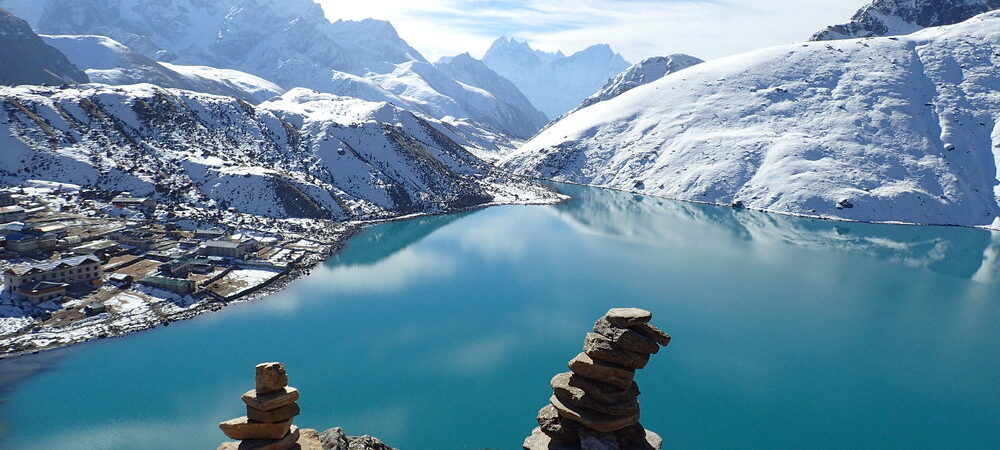 Gokyo Lake Trek is a beautiful alternative trekking option after the Everest Base Camp Trek. During expedition season Everest Base Camp used to be crowded with tents and people.
Gokyo Lakes Trekking is a perfect less crowded option to immerse yourself in the thrill and feel of the Everest region. A peaceful trekking trail, dazzling lake view, and crystal clear view of mountains; are special highlights of this trek.
The Gokyo Lake trek doesn't mean we are trekking to visit one lake. In the northern part of the Khumbu region; Gokyo valley consists especially six glacial water bodies, which are known as Gokyo Lakes.
These Lakes situated at the highest altitudes are considered holy and worshipped by both Hindu and Buddhist religions. Gokyo Valley is safeguarded by the Himalayas of the Mahalangur Himalaya range.
The beauty of Gokyo Lakes is inexplainable in words you yourself need to be there. Our highest altitude overnight stays will be at Gokyo village. Gokyo village is a small settlement situated at 4,790 meters altitude from the sea level. The highest point we reach during the trek will be Gokyo Ri (5,400 m).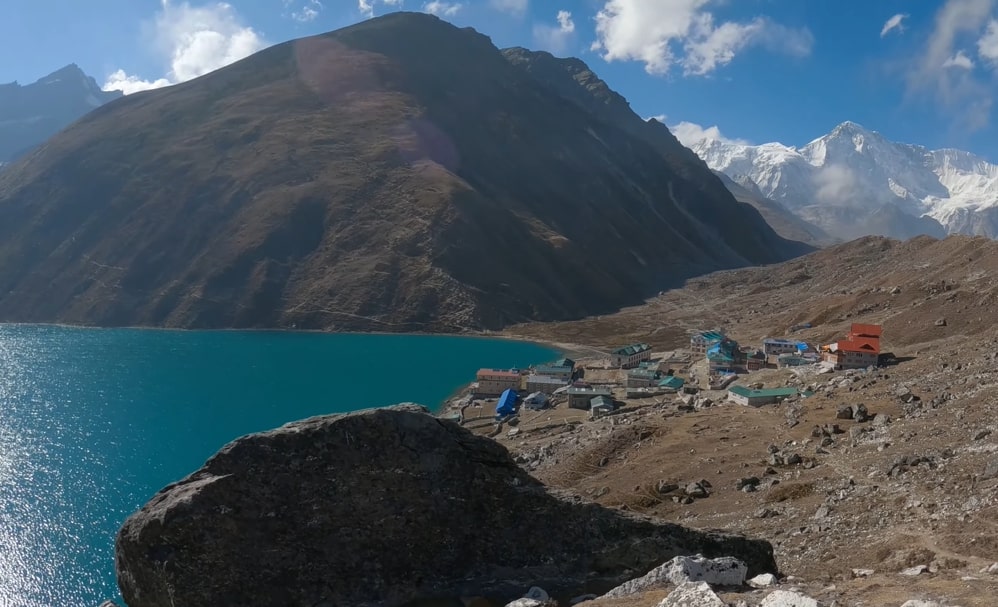 Gokyo Valley trekking
Gokyo Valley trekking will provide you with an opportunity to explore Sherpa's culture, lifestyle, and food. Sherpas are locals of the Everest region and they are popular globally, because of their contribution to mountain climbers and trekkers.
You can find Buddhist monasteries in many places on the trekking trail. The Everest region of Nepal is gifted with unique wilderness including Musk Deer, Himalayan Thar, snow Leopard, Pheasant, and Snowcock. And have you heard of Yeti? Yetis were supposed to be found in the Himalayan region (in stories) but there is no evidence of the actual existence of them.
Amazing views of snowy mountains, twinkling and pristine lakes, and Nepal's longest glacier (Ngozumpa) reward any visitor to this region.
After 30 minutes scenic flight to Lukla from Kathmandu, your trek begins from Lukla. Tenzing Hillary Airport also known as Lukla Airport itself is the attraction of the Khumbu region. On the third day of trekking, you will reach Namche Bazaar.
Namche is a very beautiful Himalayan town located at the highest altitude. Expect to walk around 4 to 6 hours a day. Namche is the common spot for both the Everest Base camp trek and the Gokyo Lake trek.
Highlights of Gokyo Lake Trekking
30-minute scenic flight to and from the Lukla Airport
Opportunity to stay at historically significant Sherpa town; Namche
Enchanting view of Everest, Lhotse, Pumori, Ama Dablam, Makalu, Nuptse, and many more
Get to know about Sherpa people, their culture, and their lifestyle
Immerse in the pristine beauty of Gokyo Lake
Rewarding panoramic view from the Gokyo Ri
a wonderful moment of being at Gokyo Ri at the height of 5,400m from sea level
Renjo La pass at the height of 5,360m
High altitude stay in Gokyo village
Brief Overview of Gokyo Lake Trek
Trek start/end: Lukla
Gokyo Lake Trek difficulty: Moderate to hard
Duration: 12 Trekking days and 14 total days
Per day walk: 4-6 hours
The highest elevation of the trek: Gokyo Ri (5,400 meters or 17,716 feet)
The lowest elevation of the Trek: Lukla (2,860 meters/ 9,383 feet)
Mode of communication: Radio set or mobile phone
Transportation: Lukla by Flight
Total costs: $1499 this is the approximate price of the package
Required documentation: Sagarmatha National Park permit
Accommodation: tea houses
Best time to trek: spring (March to May) and autumn (Mid-September to November)
Trek preparation: engage in any physical activity like walking, jogging
Itinerary of Gokyo Lake Trek
Day 01. Welcome to Kathmandu (1,350 meters/4,429 feet)
Day 02. Kathmandu to Lukla (2,860 meters/ 9,383 feet) and Trek to Phakding (2,610 meters/8,563 feet) 30 minutes flight and 3-4 hours walk
Day 03. Phakding to Namche Bazar (3,440 meters/11,290 feet) 4-5 walking hours
Day 04. Acclimatization day at Namche Bazar, Day hike to Hotel Everest View (3,962 meters/13,000 feet) 4-6 walking hours
Day 05: Namche Bazar to Khumjung (3,780 meters/ 12,401 feet) 3-4 walking hours
Day 06. Khumjung to Dole (4,200 meters/13,779 feet) 4-5 walking hours
Day 07. Dole to Machhermo (4,470 meters/14,665 feet) 4-5 walking hours
Day 08. Machhermo to Gokyo (4,790 meters/15,715 feet) 3-4 walking hours
Day 09. Acclimatization day at Gokyo, Early morning hike to Gokyo Ri (5,400 meters/17,716 feet) 5-6 walking hours
Day 10. Gokyo to Lumde (4,348 meters/ 14,265 feet) via Renjo La Pass (5,360 meters/17,585 feet) 6- 7 walking hours
Day 11. Lumde to Thame (3,820 meters/12,533 feet) 4-5 walking hours
Day 12. Thame to Manjo (2,835 meters/9,301 feet) 4-5 walking hours
Day 13. Manjo to Lukla (2,860 meters/9,383 feet) 4-5 Walking hours
Day 14. Lukla to Kathmandu (1,350 meters/4,429 feet) 30-minute scenic flight
How to get to Gokyo Lake?
The most common path of getting into the Everest region is via Lukla. You can get to Lukla via flight or trekking trail connected to Jiri of Dolakha district. Reaching Lukla by trekking from Jiri will need extra seven days for you.
There are multiple flights from Kathmandu to Lukla. Lukla is only thirty minutes of scenic ride away from Kathmandu. Lukla is also known as the gateway to the Everest region, which is the starting point of the trek.
Till Namche Bazar; a popular Himalayan town trekking trail is common for the EBC trek and Gokyo Lake Trek. From the Namche, the trail ascends through Khumjung, Dole, Machhemro, and the Gokyo Valley.
Thinking of Everest Base Camp from Gokyo?
If you are not willing to miss the popular neighbor of Gokyo village; The Everest Base Camp is for you. Extend your trek by two more days to enjoy the beauty of the Everest Base Camp. Walking through Ngozumpa Glacier from the Gokyo village you will need to make a steep climb toward Cho La Pass. Cho La Pass is at an altitude of 5,420 meters and leads you to the Base camp.
The best season for Gokyo Lake Trek?
The best trekking season in Nepal is spring from March to May and Autumn from September to November. Spring and autumn days are warmer and longer than other seasons. During those seasons you can get a clear view of the mountains.
You can trek during winter and rainy seasons too but with little extra preparation for weather challenges.
Permits required for Gokyo Lake Trek
You will need to have Sagarmatha national park entry permit which costs NRS 3000 per person. National park permits can be obtained from Nepal Tourism Board (NTB) office in Kathmandu or Monjo in the Everest region. If you are trekking with any trekking agency they will do that for you.
TIMS (Trekkers Information Management System) card is not mandatory for Everest Region. You will need to pay NRS 2000 before entering the local municipality area of the Khumbu region.
Permit fees are non-refundable and non-transferable. You may need two passport-size photos of yourself, a copy of your passport, and an itinerary for the permit. And remember to keep your identification copy all the time during the trek.
How difficult is Gokyo Lake Trekking?
Trekking in the high altitude of the Himalayas comes with the most common risk related to altitude sickness.
If you have a frequent experience of trekking to the altitude it will be a comfortable journey for you. If you are new to trekking, we recommend you have other short treks and habituate your body for long walks.
High passes of Gokyo Lakes trek, like Gokyo Ri, Renjo La pass make this trek challenging to most trekkers. All packages of Everest region trekking are planned with acclimatization days to adapt your body to high altitude. The highest point reached during the trek will be Gokyo Ri (5,400 meters/17,716 feet).
Altitudes above 2500 meters present altitude sickness risk and above 4000 meters present more sickness risk. The number of days in trekking, altitude, and cold and weather challenges makes this trek moderately difficult. But if you plan and prepare well for your trek you will enjoy your trek despite of difficulty.
Costs of Gokyo Lake Trekking
All-inclusive package:
These kinds of packages are offered by trekking agencies. The Trek company provides you with pick up/drop to the airport, a trek guide/ porter for the trek, and government taxes. The package cost includes a hotel to stay in Kathmandu, teahouse accommodations, three meals during the trek, two way Lukla flight, and a Sagarmatha national park permit.
Hot showers, battery recharge, phone bills, bar bills, bottled water, medical emergency fare, and extra meals are not included in the package price. Package price depends upon the services provided by the agency, the type of hotels chosen to stay, meal standard, and the number of acclimatization days required.
The standard package cost of the Gokyo Lake trek used to be anywhere between USD 1400 to USD 1800. If you are planning for a budget trip you can ask your agency to cut off certain services. Local Trekking agencies used to be cheaper than international travel/trek companies. You may need an extra USD 10 to USD 20 per day for your personal expense.
Trekking with porter/guide:
In this trek option, you are not going through any trekking agency but arranging a porter or a guide on your own. Make sure to have an English-speaking trek guide. Guide arranges your accommodation and meals during the trek. You can get to know about the local culture and details of the places you visit from your guide. Your guide can also observe the signs of altitude sickness in you and help to make your trip comfortable.
You can also find someone who can be your both guide and porter but make sure you can have one with English language speaking skills. Porter is the one who carries your backpack so that you can enjoy your trek and click pictures comfortably.
Generally, one porter is assigned for two trekkers in all-inclusive trek packages. Remember to make your backpack light as Porter used to have a weight limit of up to 15kg.
The guide's cost is roughly USD 20 to USD 30 per day and Porter's cost is between USD 15 to USD 25.
Solo trek to Gokyo Lakes:
In this trek option, you have decided to go on your own without any guide or porter. You have to be independent on your 2-way flight ticket booking for Lukla, your accommodation/meals during the trek, and your backpack. Your solo trek to Gokyo Valley can cost anywhere between USD 60 to USD 80 per day.
It could be a tedious task to find teahouse accommodation in the Everest region during the peak seasons. Make sure to book early and do follow up with your booking. One of the biggest demerits of solo traveling in high altitude is that there will be nobody to look after you if you fall sick or are caught by altitude sickness.
Solo trekking in the Everest region is not recommended for first-time visitors in Everest region. If you are visiting Nepal for the first time it will be difficult for you to walk in the hilly geography of the trekking trail.
Payment and money for the trek
If you are trekking with an agency you can pay them in any USD or any currency at the beginning of your trek. In an all-inclusive trekking package your agency will pay for everything mentioned in their service list. You can find ATMs up to Lukla and Namche Bazar to withdraw money but it's better to arrange your money in Kathmandu before leaving for the trek.
Some of the teahouses accept USD payment but not all and card swipe payment is not available in teahouses. Make sure to carry Nepali rupee with you, you can easily exchange money in Thamel, Kathmandu.
Trekking Gears and equipment for Gokyo Lake trekking
The temperature of the Everest region used to be below freezing point, especially in the morning and night. Places are cold all year round so make sure to pack clothes for cold weather.
Here is the quick checklist (must-have) for your backpack:
Down Jacket and sleeping bag; lightweight and for freezing temperature
Moisturizer, Sunblock, and shades
Warm cap, socks, and thermal wear
Breathable cotton T-shirts, trousers
Trekking boot, sticks
Reusable water bottle for both hot and cold water
Route map and trek itinerary
Basic first aid kit
How to make your backpack for the trek?
Your backpack should be comfortable and spacious to arrange the entire thing needed for the trek. You can buy a 30 to 70 liters backpack from Thamel if you haven't arranged it from your country. Start by categorizing your things into two parts.
The most essential things are those which are the most needed while walking. They are water bottles, energy bars, sunblocks, sunglasses, mobile phones, etc. Your most essential and valuable will go in your backpack.
Essentials are the things you will need after reaching teahouses such as an extra jacket, sleeping bag, etc. Your essentials go into a duffle bag or a bigger backpack which will be carried by your Porter.
If you are traveling solo, you will be carrying everything by yourself. Keep your most essential things in the top part of the bag and bedtime or less essential at the lower part of your bag. It's important to organize your bag efficiently for 12 days long trek to be quick and not lose your valuables on the route.
Your travel Insurance
Just like any other treks and travel make sure to have travel insurance for the Gokyo Lake trek. Any medical emergency can occur at any time especially if traveling to the mountains.
Your all-inclusive trekking package doesn't cover your medical emergency, bill, and rescue in case of altitude sickness. If you fall sick in the upper parts of the Everest region Helicopter rescue used to be the only option to reach medical facilities. There is a lack of availability of roads.
Make sure to carry your insurance copy or insurance number with you during the trek. Additionally, double-check with your insurance provider that they provide coverage in altitudes of more than 5000 meters.
Things to Know before planning a Trek to the Gokyo Lakes
Traveling to a Himalayan country is exciting and at the same time challenging too. Here are a few tips to know about the trekking in Everest region of Nepal.
Always carry Nepalese currency
Complete trekking gear is very important to prevent yourself from the cold.
Drinking plenty of water is needed to prevent dehydration
Staying hydrated is needed to stay away from altitude sickness.
Carry a map, Itinerary, and trekking route with you especially if you are traveling alone.
Solo traveling is not recommended in the Himalayan region because of the risk of altitude sickness and being unnoticed by anyone for help.
Give way to Yaks and mules as trekking trails used to be a common passage for animals and humans for your own safety.
Avoid intense physical activity, and workouts while in the mountains; fatigue is not good for the trek.
Don't be a risk taker and ascend too quickly in altitude for your safety.
Watch out for your symptoms of altitude sickness and seek help when needed.
Show respect toward the local cultural and religious aspects of the locale
Try local dishes such as Dal-Bhat while you are in Nepal. local recipes used to be wholesome, less processed, and healthy choices among other meals on the menu.
Stay positive, enjoy the trek
Accommodation and Food
Teahouse accommodations are well developed and organized in the Gokyo Lake trekking route. You can't get the comfort of a city hotel but will be comfortable enough for your trek. Twin-sharing and dormitory-style accommodations are common. The heating system and hot shower is not generally available in high-altitude accommodation.
You can see the comprehensive menu included both the Western menu and the local Nepali menu. The main course food available is Rice with lentils and curry, Fried rice, Momo, Thukpa, Pasta, etc.
For breakfast, you can find eggs, bread, soup, cereals, potato, Tibetan bread, etc.
Potato from the Khumbu region used to be very delicious which is organically and locally grown in that region.
The price of food price also rises with altitude increment.
Communication in Everest Region Treks
You can get good internet and network connection up to Namche Bazar. Because of the remote geography and mountains, you can have a poor network and internet connection above Namche.
Most of the teahouses in the region provide internet facility with extra charge. Mobile phone networks also can be very poor in grooves of trekking trails.
Most trekking agencies prefer to use deck phones to communicate among trekking staff. If you are traveling alone, it's better to carry a Nepali SIM card to communicate. In solo travel, you are managing teahouse accommodation booking and other correspondence yourself.
Conclusion
Gokyo Valley consists of six glacial water bodies, which are known as Gokyo Lakes. The Gokyo Lake trek is a quiet and less crowded alternate trek option after the Everest Base Camp trek. Gokyo Lake trek rewards you with enchanting views of Everest, Mount Cho Oyu, Lhotse, Pumori, Nuptse, and many more. All lakes are considered holy and worshipped by Hindu and Buddhist religious people. Picturesque pristine lakes along with glaciers and mountains look heavenly.
Being at an elevation of above 4500 meters Gokyo Lake trek poses an altitude sickness risk. Prepare and plan well for the trek. For yoga practitioners or spiritual seekers, Gokyo Valley provides a peaceful ambiance for yoga and meditation practice. You will be walking through one of the most popular trekking trails in the world. Rejoice in the cool breeze of Himalyana air and the heavenly aura of the divine land.
All the best for your trek!!!
Connect With BMS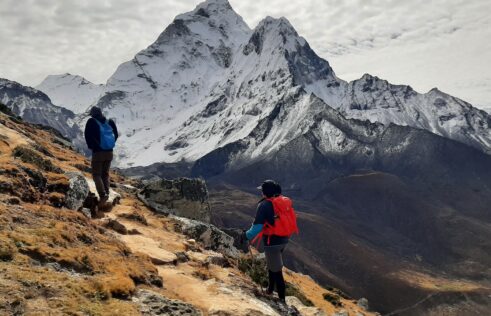 Vasudhaiva Kutumbakam
- The World is a Global Home