Trip Overview
OVERVIEW
Mardi Himal is located in the Annapurna Himalayan range of Nepal which is usually shadowed because it lies beneath the much more prominent Mount Machapuchare. The elevation of Mardi is 5,587m (18,330 ft) from the sea level. Mardi Himal was only opened in 2012 AD for trekking since it's attracted visitors with its magnanimous trekking trail and the glorious landscape of nature. Lodges and teahouses opened to an elevation of 3,350 m making this trek comfortable logistically. This trek is a lovely fusion of glorious sunrise/sunset, green nature, rich Gurung/Magar culture, and the mightiest mountains.
Peak point we reach while trekking is a base camp at 4,500m elevation. Mardi Himal is also known as a "trekking peak". Mardi Himal is a quieter trail among Annapurna region's trekking routes.
You will witness beautiful Annapurna South, Machhapuchhre, and Hiuchuli en route to the top. And final reward of the trek will be a phenomenal view of Mardi Himal from the upper viewpoint.
Just like any other trek in Nepal best season for Mardi Himal Trek is Autumn and Spring. Autumn and Spring seasons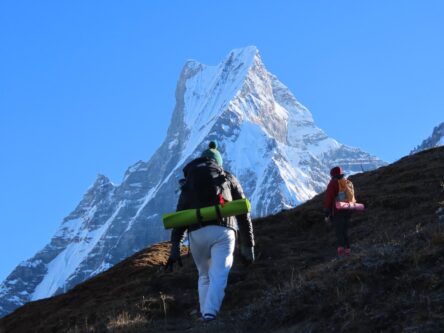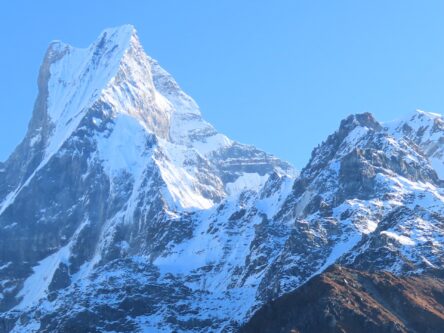 are well known for the best climate and clear mountain view. This is a refreshing trek for those who want to escape from the hustles of city life and is ideal for beginner trekkers.
Mardi Himal's total trekking days will be six days and the total program days will be ten days. If you are already in Pokhara, we can customize the itinerary and cost for you.
Highlights of Mardi Himal Trek
Explore and stroll around the beautiful Lakeside and Phewa Lake in Pokhara
Scenic ride from Kathmandu to Pokhara
The unique and spectacular trekking trail to reach the Mardi Himal Base Camp
Breath-taking mountain view, waterfalls along the trekking route of Mardi Himal
Enchanting sunrise from the Mardi Himal View Point
Mardi Himal Base Camp
Phenomenal picturesque of Mardi Himal, Annapurna South, Hiuchuli, and Machhapuchhre.
Get to know the local culture of the ethnic community and their food culture
Experience the heavenly Annapurna Region to the fullest
Accessible and easy trekking route for beginner